"ST-SYSTEM" features: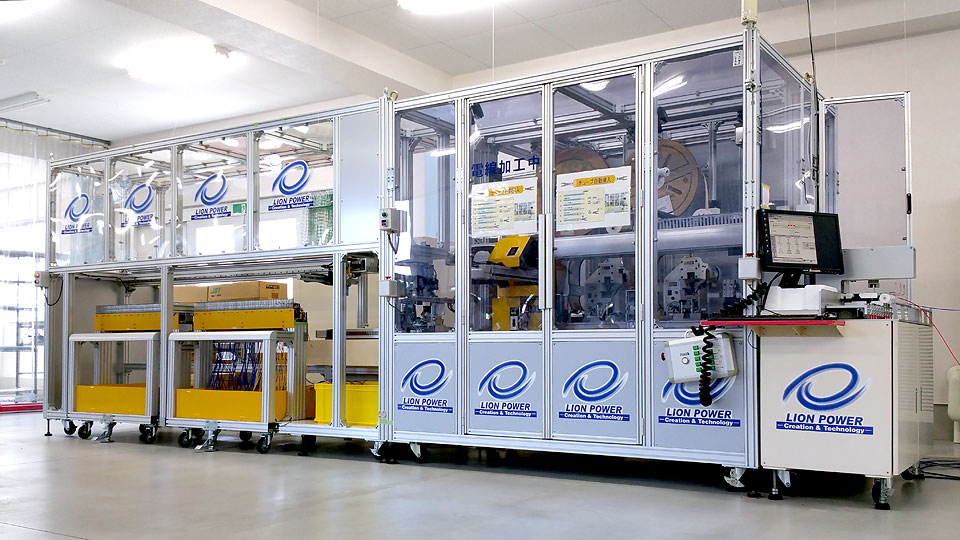 ST-SYSTEM
 Automatically selects wires, terminals and tube based on assembly data. You can pre-set for all the information prior to operation.
Accommodate with :
0.3sq ~2.0sq wire
Round, Y, connector, ferrule and open barrel terminal *,**


*JST round and Y terminal, Nichifu terminals can be accommodated with Terminal selector, "Hi-1300" enables to select among 6 options terminals.

**AMP, Molex, Phoenix terminal and others can be automatically clamped by utilizing desk clumping equipment available on the market.

Marked tubes φ3.0- φ4.2
Broad range of Length of wire: 300mm Min. – No Max. (Standard specification.) Less than 2% processing error. ***


***"Jumper wire unit" option can manage process 150mm -300mm wires.

Wire processing data in Excel or text data can be transferred, and no need to make new processing chart.
You can visit our showroom to see "ST-SYSTEM" operation.
---
OPTION UNITS:
"HI-1200" - wire selecting unit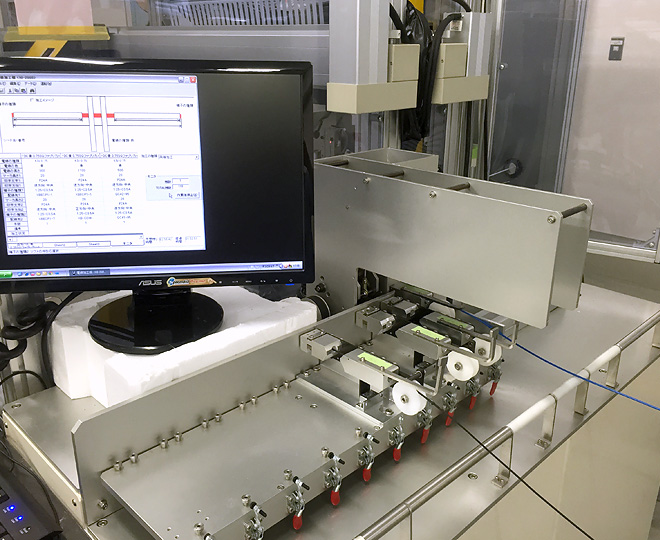 Enabling to automatically select up to 10 wires from 0.3sq.to 2.0sq to send assembly system. Easy one-touching settings system for changing wires.
---
"HI-1300"- terminal selecting unit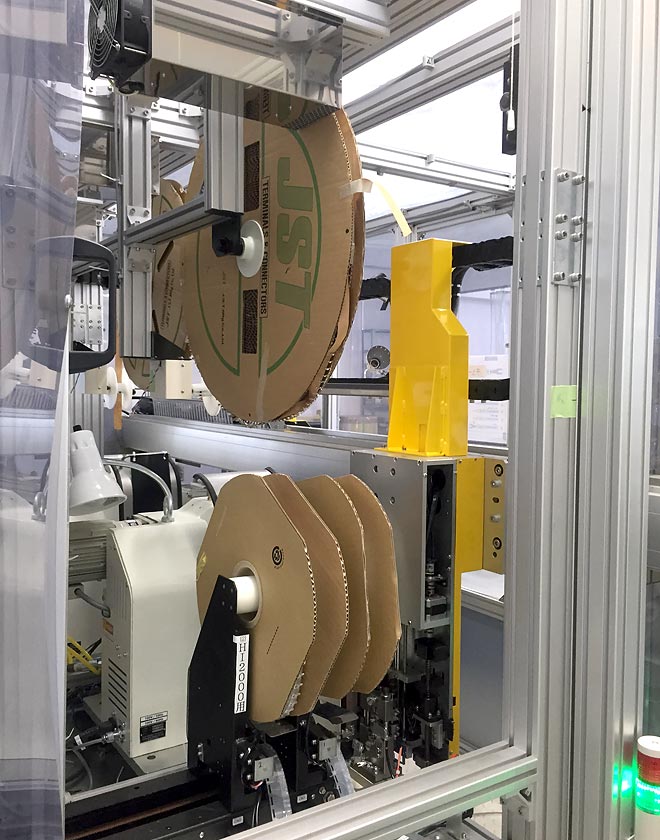 Enabling to automatically select JST or Nichifu round or Y terminal for 1.25sq -2.0sq wire and send them to clumping unit.
Ex. 6 kinds terminals for 1.25 sq., 6 kinds terminals for 2.0sq., total of 12 kinds terminals can be set for automatically selection.
1.25sq-2.0sq round or Y terminals. JST tape-on terminals are recommended.
---
"HI-1002"- harness storage unit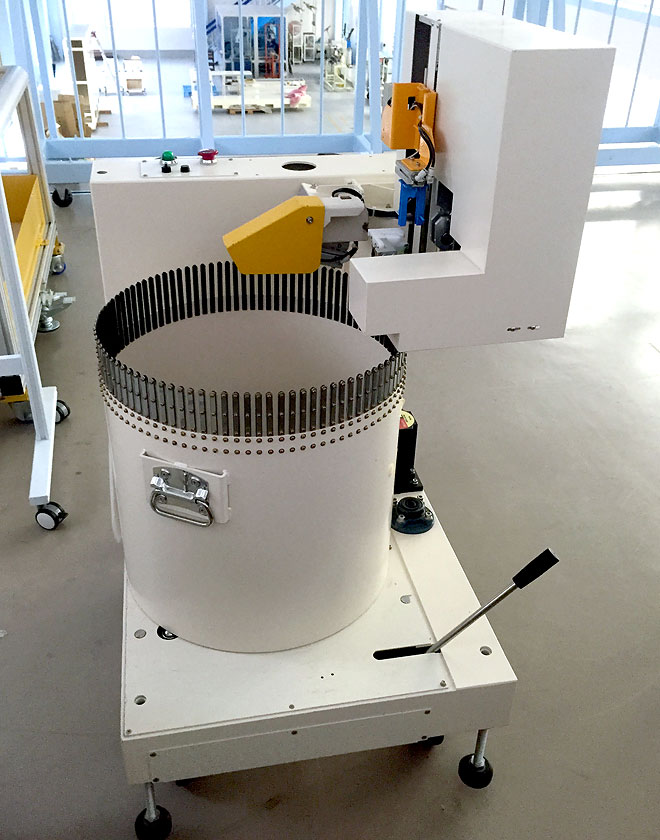 Enabling to store up to 1,000 wire harness. Compact size. Easy one-touch operation system to exchange storage box. Carried by cart to the next processing site. Location of the unit can be designed according to processing chart for next process.
---
"NP-1002"- harness storage unit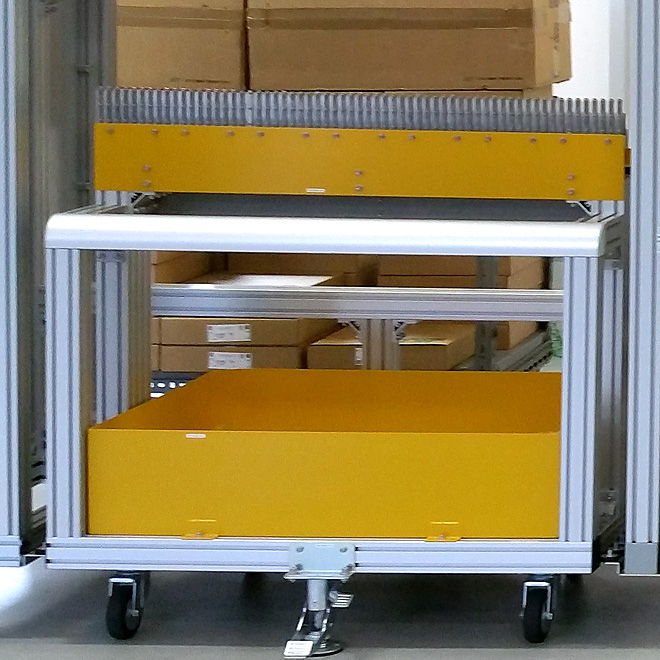 Large container unit store up to 3,000 wire harness for mass production or night time operation. Enabling to reduce exchanging container process to minimum, and containers with casters make them easy and more efficiently to be carried on site. We can custom make the unit to accommodate special requirement.
---
"HI-1003"- instruction label attachment unit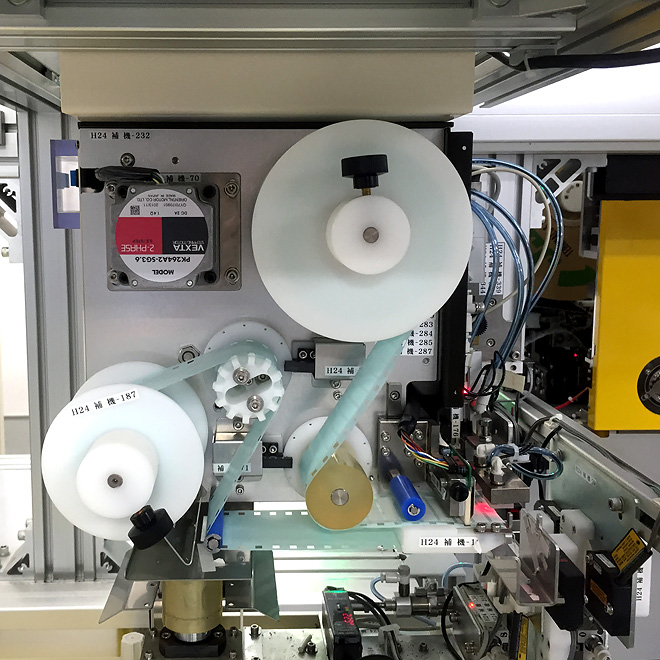 Attaching wiring instruction label for both terminal ends. Eliminating training of workers for drawing reading and making production more efficient. Label can be printed with English, Japanese or numbers based on client's specification. Label can be peeled and stored for the quality control record.
Label size: 8 x 40mm
---
Special options
"Jumper wire unit" enables to process 150mm-300mm length wire.
"Harness bending unit" can bend the harness to prevent marked tube from slipping off when the harness is processed for marked tube insertion without terminal clumping process.
"Laser marker unit" enables to print wiring circuit information on harness.
---
*All specification could be changed without notice for product improving purpose.